Using the Force of Representation
The New Hope Against the Rise of White Nationalism
Keywords:
Exceptionalism, White nationalism, Chosen one, Neo-nationalism, Alt-right, Representation, Other, Whiteness
Abstract
This paper explores how the most recent Star Wars films released after Disney's acquisition of Lucasfilm, Episode VII: The Force Awakens and Episode VIII: The Last Jedi, serve as a fertile discursive space for the growing anxieties over the rise of the white nationalist movement in the United States over the last decade.  Unlike previous Star Wars trilogies, Episodes VII and VIII foreground the "Other" in juxtaposition to the whiteness that the Empire and First Order represent both figuratively and literally.  By incorporating a more diverse array of characters, such as people of color, women, and immigrants, the Resistance is juxtaposed against the mostly white, mostly male First Order in these films.  This has led to the First Order being read by many as a symbol of the white nationalism movement, as it strives to maintain its own perceived superiority over the resistance of "Others."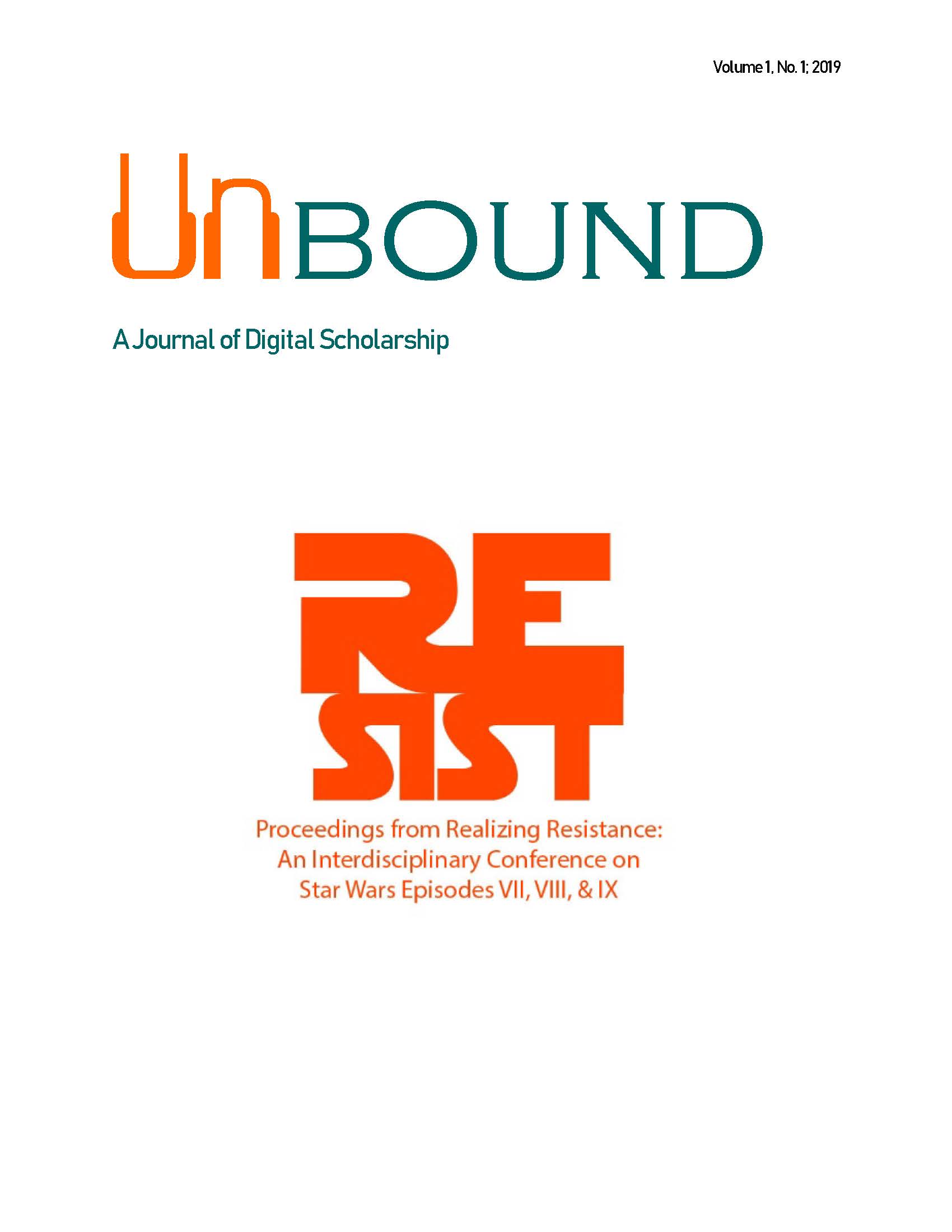 Downloads
How to Cite
Walker, C. (2019). Using the Force of Representation: The New Hope Against the Rise of White Nationalism. Unbound: A Journal of Digital Scholarship, 1(1). https://doi.org/10.12794/journals.ujds.v1i1.57
License
Unless otherwise specified by the author/s (because the work contains components to which the author/s do not hold copyright, e.g. licensed music/artwork), works are published using the Creative Commons Attribution-NonCommercial (CC BY-NC) license. Authors may also elect to license their works under more permissive terms at their discretion.
Authors retain copyright and publishing rights of their work without restriction. We ask as a courtesy that republished works acknowledge Unbound as a previous venue of publication.